Wheels Rallye Team News and Results
FAMOUS GHOST HUNT DRAWS 57 CARS
Well it took being able to drive the Halloween Tour on any night, to estalish the fourth highest attendance of its 25 year history (only topped by 72 cars one year, 59 and 58 cars in two other years). Everyone

seemed

to have fun even though it wasn't run as a

competitive

event. Congratulations to everyone who came out to view the magical Halloween decorations. And the scary ones too.


Christmas Light Tour Draws 265 Cars
The annual Christmas Light Tour, a benefit for Toys For Tots, drew 265 paid entries and approximately 170 more cars through various charities. Wheels Rallye Team is always proud to cooperate with charities looking for fundraisers. Your charity can benefit too. Drop us a line if interested.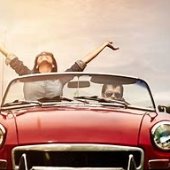 RALLYE AND AUTO CLUB LINKS CLICK BELOW
Continue scrolling down for The Famous Puzzler Results
The Famous Puzzler drew 49 cars Here are the Rallye Results and Mini Synopsis
49 cars ventured out and 38 came back as The puzzler challenged, created problems and in general took the mettle of the participants and hung them up to dry.
This fun puzzle rallye was run in the daylight this year, and the shorter rout proved popular, the harder puzzles proved challenging, and the hidden words were hard to find.
Below are the particulars of the rallye and the final standings, and winners of the event.
Brief Synopsis of the Puzzles and where the hidden words were.
Puzzle 1
The logistics indicate that the bear is white of course, black and brown worked too since all three are five letters. Hidden Word: Wrist/under play ground bridge 1 car got it, it was there on Monday)
Puzzle 2
There are 7 faces. Hidden Word: baseball backstop.

Puzzle 3
Frankfort is the capital of Kentucky not Louisville. So you wanted letters F and R. Hidden Word: On basketball Hoop structure.
Puzzle 4
Since each brother has one sister, they all only have one sister. So the answer is 9. 6 brothers, 1 sister and mom and dad. Hidden Word: On bike rack
Puzzle 5
You only have to take 3 socks, with two colors, the third sock will match one of the earlier two. Hidden Word: on back of Parkfun.com sign.
Puzzle 6
I'm on cloud 9. Hidden Word: ON Bench with separate chairs.
Puzzle 7
45, this was hard and we gave it as a sample. 45 (1/5 of 45 = 9, 9 + 45 = 54) Hidden Word: On wall at Weight Watchers.
Puzzle 8
Crossword works out to 260 Plus 123 = 383. Hidden Word: On the dugout bench.
Puzzle 9
Umpire and a catcher. Hidden Word: on the swing
Puzzle 10
Add 100 to 233 = 333. On the post at the shelter.
Puzzle 11
Here are the words, tough puzzle:
Cornucopia, harvest, November, pilgrim, turkey, cranberry, Mayflower, Plymouth, holiday, Wampanoag, pumpkin to make the following:
Thank You For This Day. Hidden Word: on post at the Pavilion.
Puzzle 12
All 6 words have a common theme CIRCUS. You just add 6 to the 329 to get 335; 6 is the number of letters for Circus. Hidden Word: On the back of a skate park ramp.
Puzzle 13
The numbers are listed in alphabetical order. Thus, 304.Hidden Word: On the back of the park sign.
Puzzle 14
It's the school teacher, because obvious lie of midterms, there are no midterms at beginning of school year. Hidden Word: On the dual slide.
Puzzle 15
The colors in order are: Cyan, scarlet (brother's car lets), indigo (find I go), teal (waste a lot), crimson (generic rims on), tan (it and). So, cSITct. Hidden Woird: On the stairs of the mutli play set.
Puzzle 16
Turning the gears you come up with 8281. You use the 281. Hidden Word: On the bench along the sidewalk.
Puzzle 17
Snug Hug, Libra Zebra, Lumberjack Paperback, Library Secretary, Ceremonial Testimonial. Hidden Word: Behind the park sign.
Puzzle 18
Utah is the only state that fulfills the requirement. Hidden Word: On the park bench.
Puzzle 19
128 hot dogs. Hidden Word: On the ball field grandstand.
Puzzle 20
Ronald Reagan. Hidden Word: On the brick wall.
The hardest hidden word was for 1. One car got it.
Puzzle 11 was the hardest puzzle. Puzzle 7 everyone got. Puzzle 16 was the second hardest.
Thanks for coming out The results follow;
Famous Puzzler Rallye Results
Congratulations To Our Winners
---
YOUR MISSION
was to solve the puzzles convert your puzzle answers to numbers, find a corresponding numbered locaion on the map, drive to that location, solve a wacky riddle and then search for a hidden word.
YOUR DESTINY
was to feel frustration that you couldn't match up answers with numbers on the route, couldn't find where the hidden words were, and generally be confuzzled.

i
YOUR OUTCOME
Well, find out by looking at the results below. You may have done better than you thought.


Results of The Famous Puzzler Rallye
The results show names of competitors, the class they were in, and their total points, plus if they won an award.
Tom Gebhardt/Tracy Gebhardt/4 or more in the car/480/

First Place Overall

Christina Collins/Michael Collins/4 or more/450/First place 4 or more in car

Alexandra Flasch/Adam/2 or less in car/430/First place 2 or less in a car

Teri Varrige/Katelynn Varrige/ 4 or more/400

Greg Cichoracki/Amanda Lambie/4 or more/390

Dan Ophus/Karri Ophus/4 or more/390

Ken Voiscet/Steve Pusateri/3 or less in a car/360/First Place 3 or Less in a car

Bill Symons/Judy Gallant/4 or more in a car/360

Teri Moore/Donna Jacobs/4 or more in a care/360

Donald Brown/Helen Bisdale/4 or more in a car/360

Bushek/Proske/4 or more in a car/330/First Place First Time Rallyist

Car 5/ 3 or less in a car/320

Brittany Nolan/ Lindsay Nolan/2 or less in a car/310

Tracy Bunde/Christina Bunde/ 3 or less in a car/300

Shanon Pusateri/Michelle Pusateri/2 or less in a car/290

Jim Fleming/ Andy Turk/4 or more/280

Linda/Keith/2 or less in the car/280

Alan Costell/Boyd Castell/2 or less/270

Mike Zalokar/Megan Zalokar/4 or more in car/270

Erin Howard/ Whitney Doherty/2 or less/260

Mike Pawlowski/Nick Pawlowski/4 or more/260

Linda Herman/Ray Herman/2 or less/250

Antoni Argall/Loren Argall/2 or less/240

Wayne Zalokar/Cheryl Zalokar/3 or less in car/210

Dave Head/Michael Lewis/3 or less/210

Jodie Prom/Andrew Talcott/3 or less/210




O'Conner/Goodwin/4 or more/200

Reynolds/Dribek/2 or less/190

Stevens/Multer/2 or less/190

Robinson Hector/3 or less/180

Brown/Henry/3 or less/180

Jeff Dunbar/Rich Frost/2 or less/170




Bob Salter/Reggie Goodwin/2 or less/160

Tom Gergits/Christy Gergits/4 or more/DNF

Ron Moody/Aex Frost/2 or more/DNF

Roger Sacks/Bennie Harris/2 or less/DNF

Kay Kerekes/Kerekes/4 or more/DNF

Barinhoiltz/Barinholtz /2 or less/DNF

Lischett/Lischett/ 2 or less/ DNF

10 cars from the Austin Birthday Party who finished at the party/ no idea on scores but they had fun
Above is quick breakdown of Puzzler puzzles and what parks were used, etc.
The Famous Ghost Hunt Results
A fun time looking at great Halloween decorations wa the genesis and design of this year's GHOST HUNT. Of course we had a bevy of tricks too. 28 cars started and 26 finished.

WHEELS
CHAMPIONSHIP
PROGRAM 2021
UPDATE SOON
The Wheels Rallye Team Championship Program is designed to have ongoing competition among area road rallyists. This competition culminates in the final Wheels Rallye Team event, of the year, The Christmas Light Tour.
Participants earn points in each of three categories: Grandmaster, Master, or Novice/Beginner.
Points are awarded for a participant's finish position in the rallye from 20(most) to 1 (less) The most points at the end of the year wins the grand prize trophy - in each class.
Wheels Rallye Team's 2019 Championship program is open to all road rallyists. It is a simple program designed to give you points for your performance and attendance in WHEELS events.
Here are the Rules:
1. Championship program for Novice/Beginner, Master and Grandmaster Rallyists. No points can be earned in any rallye car that contains more than two grandmasters except for The Famous Puzzler Rallye.
2. Champions will be determined by getting points in their respective divisions. A competitor's best 5 (Five) performances determines his overall score.
3. Scoring is done by awarding 20 points to the best finisher and then scaling down to a minimum of 1 point for the 20th finisher and after..
4. If a participant moves up in class throughout the year, he or she will carry the points earned in any lower class with them to the higher class(es).
5. Awards will be presented at The Christmas Light Tour Rallye for Toys For Tots in December 2019.
6. In all cases awards will be determined by actual results. If a tie exists at the end of the year, winner will be determined by attendance at Wheels events.
7. Awards will be trophies, plaques, or other personalized awards, and may include bonus prizes as well.
8. Wheels rallye team is the sole referee in championship point disputes.
Best Yet, you are automatically entered just by coming out and running a
Wheels Rallye Team Event
o