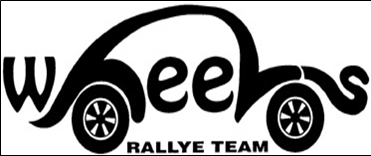 2022 Season to Be Listed
A very competitive road rallye THE MONSTER kicked off the Wheels Rallye Team's 2021 season as 21 cars full of active participants drove this daytime gimmick road rallye, and when it came to results, veteran Phil Howard, Marty Howard took home first overall honors with a sparkling 60 points in penalty, followed closely by veterans Edward Davis, Roy Coleman and Dianna Uchida. Karen and Alex Flasch finished third and Ed Mann and Chipp Kopp took home the Masters trophy.
Results Below
Summer Cruise Rallye on June 26
The Famous Summer Cruise Rallye was held on Saturday June 26, this is the event where we cruise old and new drive ins and try to recreate a summer night's drive of days of yore.

Here are The Results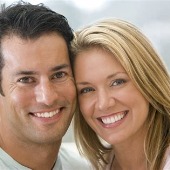 Diners, Drive - Ins and Drives Results
A nice turnout of 24 cars made their way to Garibaldi's Italian Eatery to participate in our third rallye of the year, Diners, Drive-In's and Drives. The event was won by Chipp Kopp and Chris Kopp. People had fun, liked the challenges and enjoyed the day, what more could you want?
Remembering Bob De Merritt
Bob De Merritt a longtime Chicago area based rallyist and participant in the SCCA National program has passed at 87. We will miss Bob, his sage humor and stick with it spirit. Our condolences to his wife Marianne.
Robert "Bob" DeMeritt, age 87, of Plainfield, IL, passed away at home on July 13th with his wife Marianne at his side. Bob was born in Oak Park, IL, on July 31, 1933, to Florence (Beatty) and Rex DeMeritt. He attended Oak Park High School and graduated from the University of Illinois with a degree in accounting. Bob worked as a computer programmer and systems analyst. Bob and Marianne ran their own company for many years.
Bob was an avid golfer, even tackling prestigious courses in Ireland and Scotland such as St. Andrews. He piloted an RV-6 airplane that he built himself, flying it to Alaska. He also built and flew RC model planes. He loved participating in road rallies where he excelled and was ranked nationally as a driver. Bob is survived by his loving wife Marianne and beloved brother Leland.
Bob has five children Deborah DeMeritt, Diane Williams (Len), JR DeMeritt (Cindy), Michael DeMeritt (Mary), and Frances Kincaid (Jim). He has 15 grandchildren Jessica (Josh), Corinne (Andy), Kori (Sean), Ryan, Kyle (Vanessa), Heather (Joe), Ashley (Tony), Alex (Lauren), Gabrielle, Tommy, Johnny, Maggie, Doug (Vio), Jake and Madison. He also had 10 great-grandchildren Mark, Reid, Dakota, Austin, Mallory, Taylor, Nora, Jillian, Alyssa, Natalie, and loving nieces Pamela (Andrew), Julia (deceased), Lindsay (Reed), Natalie (Joe), and nephew Nick. Also, brother-in-law Archer Stella (Vikki) and great-nephews Jack and Ryan. Bob was predeceased by his parents and brother Randall.
Remembering Jeff Lurie
Long time (since 1966) Chicago area rallyist Jeff Lurie died from COVID in December 2020. Jeff had been a member of one rallye team or another since his beginnings with GVB Rallye Team in 1967. He also belonged to both UTRO and his most well known team, Brand X. He was a rallymaster for the famous Whoosh Witch Halloween Rallye and participated weekly in other car club's events. He will be missed. He is survived by his wife, Kathy. He was 73.
The Famous Puzzler Rallye Results
A nice crowd came out to run and have fun on the Famous puzzler Rallye prsented by Wheels Rallye Team in September, Here are the results.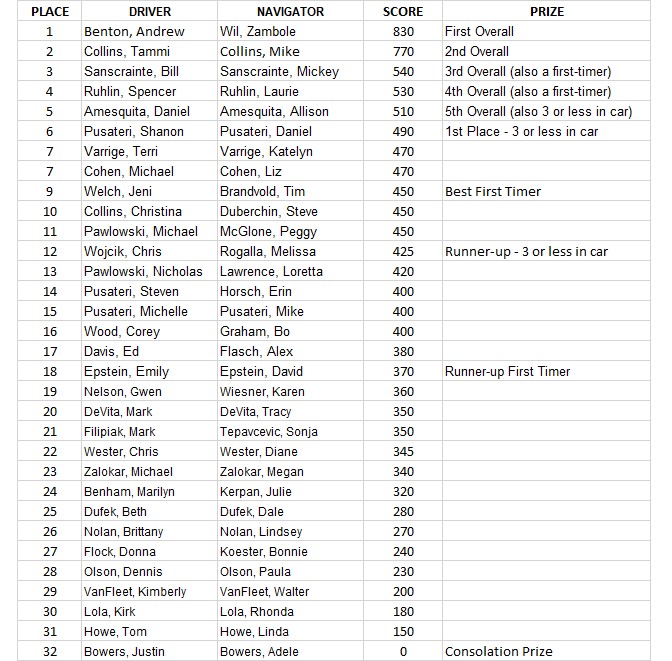 Thank you for coming out to run the Famous Puzzler Rallye benefiting Little City in Palatine. We made over $1000 on registration fees alone and that doesn't include the additional percentage we will get from Garibaldi's for all the food we purchased that night. On behalf of Little City we thank you!
I want to thank Lee and Sue Thorson and Dennis Dorner for testing and proof-reading the puzzles for me, and Dennis for arranging the endpoint, handling all the online registrations, and sharing his endless expertise and advice.


Some of you may be surprised to hear that all the plates and hidden words were in place on Sunday afternoon when we took everything down. There was one word at location 299, Windsor Ridge Park playground, that should have been attached to the General Store but was found lying on the grass nearby, so I'm not sure when that one was removed.
Some people could not find the plate at location 101, Frontier Park, but I suspect that they may have been at the wrong side of the park on Kennicott. The playground was on Fernandez. Another team was unable to find the hidden word on the whale. The whale clue was for location 808, Greens Park, and the whale was black and white, like the killer whale mentioned in the clue. There was another whale at location 274, Westgate Park, but it was blue. The hidden word at that location was behind the stairs.
There were only 2 puzzles that everyone got correct -- #1, Dog Gone It (101 Dalmatians), and the starting puzzle in the parking lot. Other puzzles that were missed by only one person each were #3, Mad Gab (solar eclipse); #10, Name That Tune (Bridge Over Troubled Water); #13, Connect the Dots (mouse); and #18, Close the Windows (Puzzler Rallyes Are Fun).
The average number of puzzles that teams got correct was 20, with the highest being 28 and the lowest 10.
The 2 hardest puzzles by far were #15, What a Square, (there were 16 squares which, I admit, were pretty hard to keep track of) and #25, Tell the Truth (the logic puzzle where Mr. Smith is a liar). Each puzzle was answered correctly by only 6 teams. The winning team was the only one that answered both of them correctly. The next hardest puzzles were #5, A Combinatorial Hoard (there were 29 different sums of money), and #22, Corrupt to the Core (there can only be one honest politician), which were answered correctly by 14 and 15 teams, respectively.
For those of you who are wondering, of the 19 teams that correctly solved the sudoku puzzle for #23 and called the phone number, only 9 of you hung on long enough to get the hidden word to #29 as well.
There were 28 puzzles, but since puzzles #15 and #20 had the same answer, as did puzzles #25 and 28, and the answers to #23 were given over the phone, there were only 25 locations that needed to be visited. However, there were 30 locations with yellow plates and hidden words. 5 of the trickier puzzles had plates and hidden words at both the correct puzzle answer location and the location that corresponded to the most expected wrong answer. These alternate locations had a total of 18 visits, thus allowing teams to gain points for the riddle and hidden word even though they had the incorrect answer to the puzzle.

With the exception of the starting location, the most frequently visited location (17 total visits) was the Children's Safety Park on Ridge Road just north of Euclid, (location 425, #3), one of my favorites -- wish this had been there when my kids were little. Also with a high number of visits was Greens Park (location 808, #17) with 16 car visits. The playground at Centennial Park near Riley school (location 819, #11) and Joyce Kilmer school (location 235, #13) each had 15 visits, while Pine Park (location 455, #14) and Hillside Cemetery (location 247, #26) had an appropriate 13 number of visits. Each of the correct locations were visited by at least 2 teams.

The least frequently visited sites correlated with the puzzles that were most frequently answered incorrectly. All alternate (incorrect) locations with plates and hidden words were visited at least once.
The easist words to find were at locations 101 (#1, Frontier Park) on the large wishbone/slingshot, location 720 (#8, South Park) under the bridge, location 950 (#12, Eagle Park) near the backwards musical notes, location 615 (#18, Alcott Center) on the Buddy Bench (good job! there were 2 playgrounds and a lot to look at there), location 667 (#22, Mulberry Park) near the spider web, and location 350 (#27, Daisy's Ice Cream) on the green bike rack. Each of these sites had at least 5 visits, and everyone who visited these sites found the word.
The hardest word to find was at location 914, (#28, Raven Park), with only 2 of the 13 visiting teams finding the hidden word. The word was on a sign on the tennis court fence. While it was in plain sight, I suspect that it was hard to find because the word was on a white sticker and the background sign was also white, and thus it was easily overlooked. Another difficult word to find was at location 293 (incorrect location for #19, Carriage Walk Park) on the back of the see-no-evil stairs (1 out of 3 visiting teams found it). The hidden word at the correct location for puzzle #19 was also on the back of the see-no-evil stairs, but 5 out of 7 people found that one. Only 3 out of 7 teams found the word at location 740 (incorrect location for #8) on the sprinkler room door. I did not intend for the word at that location to be that difficult to find but, in retrospect, I realize it was.


Congratulations to the team headed by Andrew Benton and Wiliam Zambole who came in first and almost achieved a perfect score -- they only missed 2 hidden words, one of which was #29. The second place team of Tami and Mike Collins got 26 puzzles correct and visited 26 sites (one of which was the wrong one). In third place was the team headed by Bill and Mickey Sanscrainte who had never done a puzzler rallye before and got 24 puzzles plus #29 correct and visited 16 sites. There were several teams who only got 2 or 3 of the puzzles wrong but weren't able to visit as many sites.


Karen Flasch
Rallymaster


The Famous Ghost Hunt Results
84 cars entered the Famous ghost Hunt making it the largest Famous Ghost Hunt ever! However, most chose to run the TOUR version which was not scored but just made for fun. Either way, everyone saw a lot of Halloween decorations and had fun. Thanks to all the participants. Of the 84 60 or more entered the non-competitive event that thy could run at anytime.
Results of 2021 Christmas Light Tour


Over 230 and counting including the non competitive entries. A great turnout and thanks to Karen Flasch for her scoring acumen and Sue and Lee Thorson for their Rallye checking. Toys For Tots and Wheels Rallye Team, thanks you for making this another stellar Christmas Light Tour.
The Answers and Trivia Answers are below the Results


Answers to the Christmas Light Tour
Christmas Light Tour Trivia Answers 2021