The Famous Ghost Hunt
Halloween House Tour
r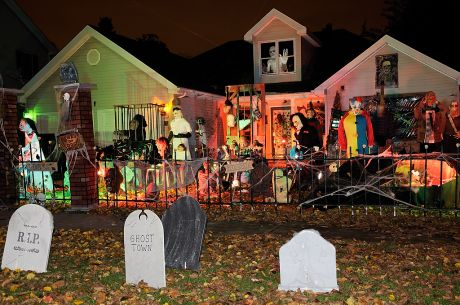 The Wonderful scary tour of the best Halloween Decorated Houses around. Come and join us for the annual Famous Ghost Hunt Rallye/Tour and view some amazing if not frightening Halloween decorated houses.
You can run in competitive event on Saturday Night October 21. 2023 or you can run at any time day or night beginning Sunday October 22 until Halloween. It's spooky and fun for everyone.
Read Below for more information.
You can run competitively on October 21.
Or run anytime day or night in our Halloween Tour Option
To register Now on our competitive event OCTOBER 21
click Buy Now Below
To Register Now in our Tour Anytime Event (run night or day)
click Buy Now Below
More Details on this Great Event, Read Below
Information on The Famous Ghost Hunt
The Competitive rallye Starts at Garibaldi's Restaurant in the Barrington Square Town Center in Hoffman Estates, The Famous Ghost Hunt celebrates its 31st running. Registration opens at 6pm Cars off at around 7pm.
Best to Register online to avoid being shut out.
OR YOU CAN RUN ANYTIME
If you like Halloween decorations, then this is for you!
You can run the rallye starting at WOODFIELD MALL, at anytime between October 23 (night) and Halloween, day or night. At you leisure and time you choose.
Here's what you will see: At least 50 Halloween Houses, some of which we ask questions to highlight the houses.
You'll see the VERY BEST Ghosts, Vampires, Monsters, graveyards and more as you trek through the ingenious course set up by the Wheels Rallye team.
You will marvel as to how far the people in the suburbs are willing to go to celebrate the season. Don't miss this highlight premium presentation of the Wheel Rallye Team.