Welcome to The
Wheels Rallye Team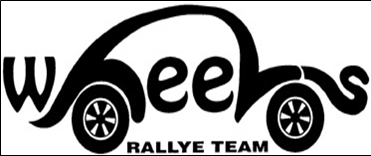 Wheels Rallye Team is Chicago-based road rallye club that believes in creating and presenting truly original and entertaining NON-SPEED road rallyes to the public. Road Rallying is a great sport. It combines the elements of a board game with the excitement of the internet and the adventure of a drive to points unknown. It is NOT a race or speed event, but instead is a skill-based sport that bases your knowledge of the rules against your ability to apply those rules out on short rallye courses. A great event for fund raisers, singles, married couples, couples with children and - well just about anyone that enjoys
a fun time and true challenge. Any type of car or van or whatever can be used.
Have fun the Wheels Way.
Our 2019 Schedule
April 13 - 8 Simple Rules
May 11- The Treasure Hunt
: June 15 - The Summer Cruise
NEXT UP: September 21 - The Famous Puzzler Rallye
October 19 - The Famous Ghost Hunt
November - The Turkey Hunt
December 7 - The Christmas Light Tour
Read Upcoming Events Below for more information.
Things To Do Here on Wheels Rallye Team.com
---
THE BIG PUZZLE RALLYE OF THE YEAR
September 21 THE FAMOUS PUZZLER RALLYE
This is the grand-daddy of Puzzler Rallyes. Solve puzzles, drive to matching location on the map, find a hidden clue word. Not many rules, just great fun that anyone can do. Fill up the car or van and have a night of amazing fun.
October 19: THE FAMOUS GHOST HUNT
One of the most attended rallyes of the year, The Famous Ghost Hunt combines real rallying with a great tour of the best Halloween House Decorations in the area. Exceptional Premier Event.
In November: The Great Turkey Hunt
You receive a map that has about 24 locations. You drive to those locations to answer a clue at each location, which could come from a business, a sign, or anything. Very Easy rallying, that anyone, even a beginner can perform and win.
December 7: THE CHRISTMAS LIGHT TOUR
The Christmas Light Tour is a tour of the best Christmas displays in the Northwest suburbs. Both private houses and parks. It's simple drive to the house answer a question and go to the next. No course gimmicks, a total tour, with some tricky decoration questions along the way. Over 600 cars participated last year in 2018.