The Christmas
Light Tour
Runs From December 11 to Christmas Day
You can run in competitive mode or anytime mode in this ingenious and collective stimulation of the senses, as you look at qnd explore the BEST Christmas decorations in the NW suburbs.
Look For Information

Below
Run It Any Time
Run the event any time from December 11 to Christmas day. If you want to run in competition, the event will take place on Saturday December 11th starting and ending at Garibaldi's in Hoffman Estates from 6:30 pm until 9:30 pm. Register for either the TOUR ANYTIME of the COMPETIION event below.
This event has in the past shown the most spectacular houses in the Schaumburg/Hoffman Estates/Elk Grove/ Arlington Hts areas. You'll see the most decorated houses in the area wrapped up in a simple road rally that gives you turn by turn instructions and commentary on the houses, too.
Because this is a charity event for Toys For Tots, all donations go to the organization, the cost is $20. If you intend to run as a group on December 11th, and you have a toy for Toys For Tots we will graciously accept it. It's not necessary but its fun to give a toy. You can also donate through the website cash if you wish, it will be forwarded trough Pay Pal's ongoing Toys For Tots fundraising.
Live Rallying
The competitive event is run on Saturday December 11 with a start time of 6:30 pm from Garibaldi's in Hoffman Estates, in the Barrington Square Town Center located on Higgins Road just East of Barrington Road. Registration opens at 5:30 and cars off at 6:30. It will end at Garibaldi's at 9:30 pm. The tour rally can be run anytime from December 11 through Christmas.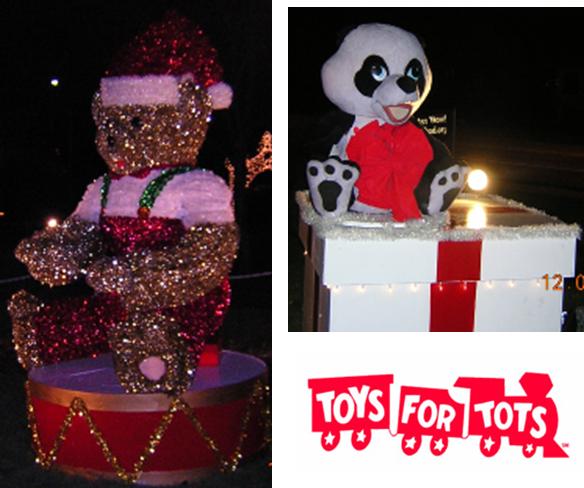 Get ready to put on those sunglasses and be blinded by the lights you will see. Spectacular lights and amazing displays await. You can preregister now and get all materials sent to you to run at any day or night, as you wish from December 11through Christmas. It's fun, fresh and a great activity to do with the family, friends and cohorts. It's a Christmas Miracle! All proceeds go to buy toys for Toys For Tots
Note: You must preregister for this event to make sure you don't get shut out.
Christmas Light Tour Run Anytime Tour
Christmas Light Tour Competition Tour December 11